AndreaVit® D3 + K2
Didn't get enough sun today?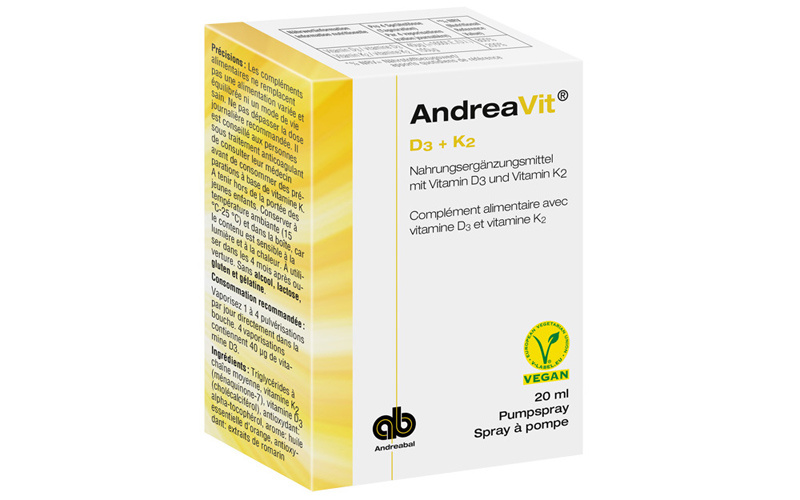 What is AndreaVit® D3 + K2?
AndreaVit® D3 + K2 is a dietary supplement that supplies vitamin D3 and vitamin K2.
It's a liquid product and it is sprayed into the mouth.

AndreaVit® D3 + K2 is vegan!
When will AndreaVit® D3 + K2 be applied?
To cover an increased need for vitamin D and K, the product is taken as a supplement to food.
The vitamins contained contribute to the following normal body functions:
Vitamin D supports
- the immune system
- the maintenance of bones and teeth
- the normal absorption and utilisation of calcium and phosphorus
Vitamin K supports
- the maintenance of bones

Vitamin D3 is naturally formed in the skin under the influence of sunlight (UV-B rays). As a rule, it is sufficient to expose the face and forearms to sunlight. In summer it should be 5-10 minutes, in spring and autumn 20 minutes at noon. In Switzerland, sunlight in the winter months (from October to March) is not intense enough to produce enough vitamin D3. Thus, the need for vitamin D from food increases during the winter months to ensure a normal supply for the body.
It is therefore recommended to take it during the winter months.
What happens with a vitamin D deficiency?
Various diseases can occur if there is a vitamin D deficiency over a long period of time. Particularly in old age, there is a risk of osteoporosis. The bones become less dense, lose stability and fractures occur more often. Good health is therefore extremely important for people and should be given increased attention and care from the age of 45. Children can also have a vitamin D deficiency. This becomes noticeable through a weak immune system, in very rare cases with a bone deformity (rickets).
How does AndreaVit® D3 + K2 work?
Vitamin D3 facilitates the absorption of calcium, thus contributes to ideal osseous health (strong bones) and a high bone density.
Vitamin K2 is involved in the transportation of calcium. It supports the development of healthy teeth and a good jaw development.
Why this combination?
Vitamin D3 and vitamin K2 work together in the storage of calcium in the bones. In this way they contribute to the maintenance of normal bones.
Vitamin D3 causes the formation of osteocalcin (protein in bone metabolism). Vitamin K2 activates osteocalcin, which is important for the transport of calcium. These proteins help to bind calcium in the bones and prevent or reduce calcium deposits in the arteries.
How often is AndreaVit® D3 + K2 used?
Spray 1 - 4 sprays a day directly into the mouth.
4 sprays contain 40µg of vitamin D3 and 150µg of vitamin K2.
Which ingredients does AndreaVit® D3 + K2 contain?
Nutritional information
Vitamin D3
40 μg (=1600 UI)
800%
Vitamin K2
150 μg
200%
(1) Nutritional Reference Value
Percentage of the recommended daily dose
Ingredients
Medium-chain triglycerides, vitamin K2 (menaquinone- 7), vitamin D3 (cholecalciferol), antioxidant: alpha-tocopherol, aroma: essential orange oil, antioxidant: rosemary extracts.
Vegan, without alcohol, gluten, gelatine and lactose!
Note
Dietary supplements are not a substitute for a varied, balanced diet and healthy life-style.
Do not exceed the recommended daily dose.
Patients who are taking anticoagulants should consult their doctor before taking vitamin K products.Keep out of reach of small children.
Store at room temperature (15 °C-25 °C; avoid local heat sources, sunlight and contact with water). The best-before date refers to the product when stored properly in the unopened packaging. Once opened, consume within 4 months.

Made in the EU