AndreaFer
Always tired and run down?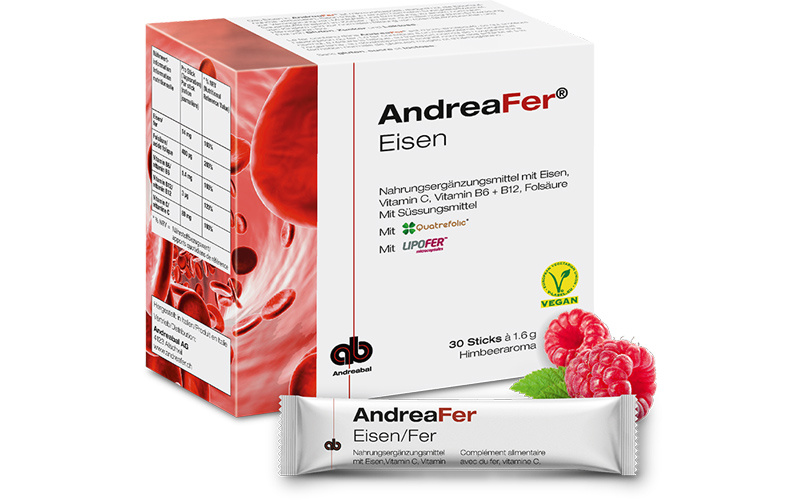 What is AndreaFer?
AndreaFer is a food supplement with iron, folic acid, vitamin B6 + B12 and vitamin C.
The trace element iron is essential and is not
able to be produced by the body itself.
Women in particular lose a lot
of iron during their monthly periods and should therefore
make sure that they are getting enough iron.
AndreaFer is vegan!
When will AndreaFer be applied?
With constant fatigue, floppiness, diminishing performance could be an iron deficienyl.
Only about 10% of the amount of iron ingested in food can be absorbed by the body. Therefore, an additional intake is useful in case of the symptoms mentioned.
How does AndreaFer work?
Iron helps to reduce tiredness and fatigue. The contained vitamin C increases iron absorption. Folic acid, vitamin B6 and B12 contribute to normal red blood cell formation.
Good absorption thanks to new technology!
The iron in AndreaFer is micro-encapsulated and therefore well tolerated and is optimally absorbed.
How often is AndreaFer used?
Adults and adolescents aged 12 and above: once a day, empty the contents of one stick onto the tongue and swallow without water. The powder has a pleasant, fresh raspberry flavour.
Which ingredients does AndreaFer contain?
Nutritional information
Eisen
19 mg
136%
Folsäure
400 μg
200%
Vitamin B6
1,4 mg
100%
Vitamin B12
3 μg
120%
Vitamin C
80 mg
100%
(1) Nutritional Reference Value
Anteil in % der empfohlenen Tagesdosis
Ingredients
Sweeteners: xylitol, sorbitol; microencapsulated iron (corn starch, iron (II) phosphate, sunflower lecithin); L-ascorbic acid (vitamin C); raspberry flavouring; acidulant: citric acid; anti-caking agent: silica; pyridoxine hydrochloride (vitamin B6); (6S)-5-methyltetrahydrofolic acid, glucosamine salt (folic acid); cyanocobalamin (vitamin B12).
Vegan, without gluten, sugar and lactose!
Note
Dietary supplements are no substitute for a varied, balanced diet and a healthy lifestyle.
Do not exceed the recommended daily dose. Excessive consumption may have a laxative effect.
Made in Italy