KlorilŪP Nail varnish: First aid for fingernails and toenails
The medical nail polish remineralises toenails and fingernails and strengthens the nail structure.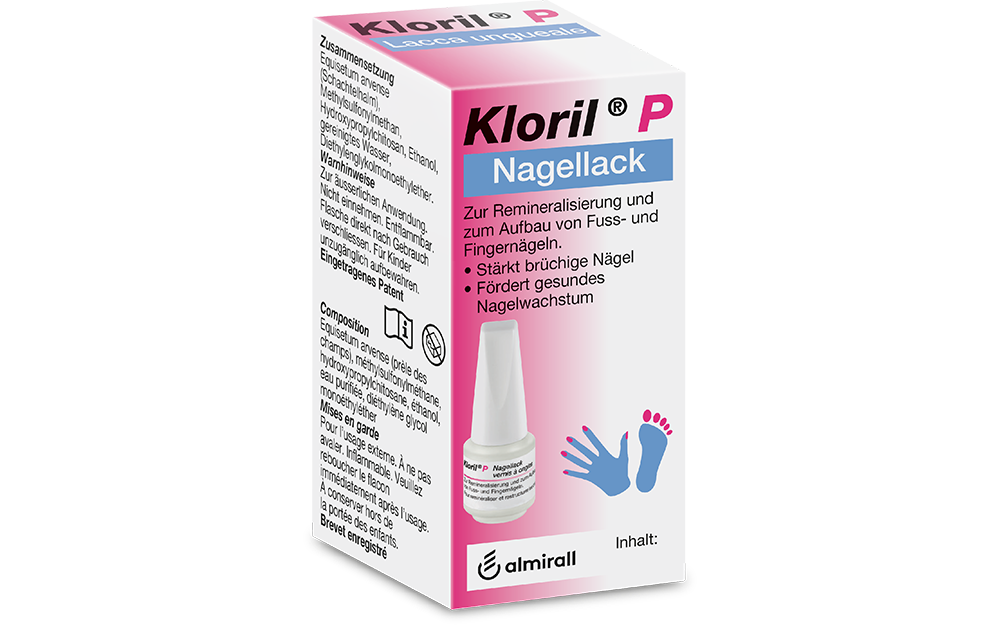 Causes of brittle fingernails
The cause of unsightly or damaged toenails and fingernails is often a lack of silicic acid and sulphur. KlorilŪ P nail polish restores healthy and beautiful nails. It contains no solvents and is simply applied to the nails like a normal nail polish - preferably twice a day.
Which nail problems does KlorilŪ P nail polish help with?
Use KlorilŪ P nail polish for the following nail problems:
Nail splitting
whitish discolouration on the nails
brittle and splintering nails
Defects on the nail plate
oil stains (in psoriasis)
How KlorilŪ P nail varnish works
KlorilŪ P nail varnish contains a special combination of 3 active ingredients and has decisive advantages over conventional nail varnishes thanks to its hydro varnish technology.
KlorilŪ P nail polish supports the nails threefold:
regenerates damaged and porous nails
remineralises and smoothes the nail surface
strengthens brittle and splintering nails
Why wait? Start a nail treatment with KlorilŪ P nail polish now and enjoy your beautiful and strong nails. You can expect the first results after only 4 weeks.
How is KlorilŪP nail polish applied?
The nail varnish should be applied once a day, preferably in the evening, to the clean and dry nail. To do this, spread the nail varnish thinly with the brush on the surface of the nail and on the 5 mm surrounding skin of the nail plate as well as under the free edge of the nail.
The nail varnish dries quickly and forms an invisible protective film. If the treatment is done in the evening, the ingredients penetrate deep into the nail overnight. The water-soluble nail polish is simply removed in the morning when washing, making the use of nail polish remover unnecessary.
KlorilŪP nail polish can also be used with cosmetic nail polish!