AndreaDHA® plus D3 + K2
For baby's healthy development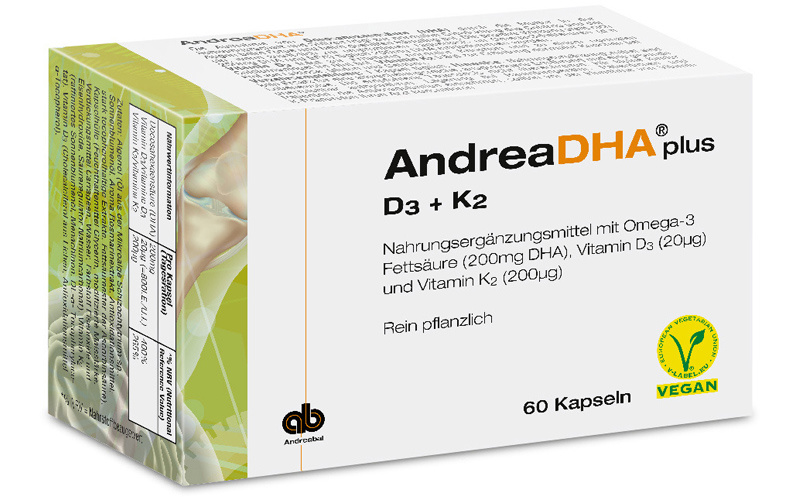 What is AndreaDHA?
AndreaDHA® is a dietary supplement that supplies omega-3 fatty acid DHA vitamin D3 and vitamin K2.
AndreaDHA® plus is vegan!
When will AndreaDHA be applied?
During pregnancy and whilst breast-feeding:
In addition to vitamins, minerals and trace elements, it is important that pregnant women and nursing mothers consume a sufficient amount of omega-3 fatty acids. DHA (docosahexaenoic acid) is a vital, polyunsaturated fatty acid. It is an important building block of brain and nervous cells and it is present in the eyes' retina.
How does AndreaDHA plus work?
DHA (docosahexaenoic acid) is a vital polyunsaturated fatty acid that is an important building-block of cells, in particular of the brain and nerve cells and those in the retina of the eyes.
The taking of AndreaDHA plus by the mother supports brain and eye development in the foetus and nursing baby.
Vitamin D3 facilitates the absorption of calcium, thus contributes to ideal osseous health (strong bones) and a high bone density.
Vitamin K2 is involved in the transportation of calcium. It supports the development of healthy teeth and a good jaw development.
Why does the mother also need additional nutrients during pregnancy?
As part of our modern diet, we often prefer calorie-reduced, low-fat foods. Vitamin D und vitamin K are fat-soluble vitamins and come from fatty foods such as oils, milk, butter, eggs, nuts, fish and meat.
During pregnancy and lactation, calcium is drawn from the mother for the bone formation of the unborn, i.e. that after this time in her life, the mother has less calcium in her own bones. It is therefore especially important for pregnant women to take in a sufficient amount of vitamin D3 and K2. Vitamin D3 promotes the uptake of calcium from food and drinking water, of which there is plenty available there. Vitamin K2 controls the integration of calcium into the teeth and bones.
How often is AndreaDHA plus used?
Take 1 capsule daily with lots of fluids. Since the ingredients are fat-soluble, it would be beneficial to take the capsules with foods containing fat (such as a salad dressing containing oil). This would ensure optimal ingestion by the body.
Which ingredients does AndreaDHA plus contain?
Nutritional information
Docosahexaenoic acid
200 mg
Vitamin D3
15 μg (=600 IE)
200%
Vitamin K2
200 μg
265%
(1) Nutritional Reference Value
Percentage of the recommended daily dose
Ingredients AndreaDHA plus:
Algae oil (oil from the microalgae Schizochytrium sp., sunflower oil, rosemary extract aroma, antioxidants: extracts contain lots of tocopherol, fatty acid ester of the ascorbic acid), capsule shell (humectant glycerine, modified corn starch, thickening agent carrageen, water, dye iron oxides and iron hydroxides, acidity regulator sodium carbonate), Vitamin K2 (refined sunflower oil, menaquinone, dl-alpha-tocopherol acetate), Vitamin D3 (cholecalciferol from lichen, antioxidant alpha- tocopherol).
Note
Dietary supplements are not a substitute for a varied, balanced diet and healthy life-style.
Do not exceed the recommended daily dose.
Patients who are taking anticoagulants should consult their doctor before taking vitamin K products.
Made in the EU